Real Housewives Bethenny Frankel Talks about Plastic Surgery
|
Bethenny Frankel never seemed able to escape from the issue of plastic surgery. Recently a late-night talk show, Watch What Happens: Live, try to clarify whether she was getting plastic surgery or not. And, do you know what Bethenny's answer when asked by host Andy Cohen on her face change particularly why her jaw is looking noticeably smaller these days? She again denied that she never had any cosmetic surgery procedures done.
Related: Bethenny Frankel Surgery List
What Has Bethenny Done to Her Face?
Quoting from the exclusive interview with bravotv.com, she told that she did not get any surgical procedures done except the use of filler which was injected on her jaw due to temporomandibular joint disorders (TMJ).
"I didn't," Frankel said. "Well, I had my jaw injected with Botox because I have TMJ, and if you look at pictures of me from probably, like, seven years ago it's gradually gotten smaller to the point where I had to stop, and now it actually hurts again."
See the pictures below to know how she looked differently!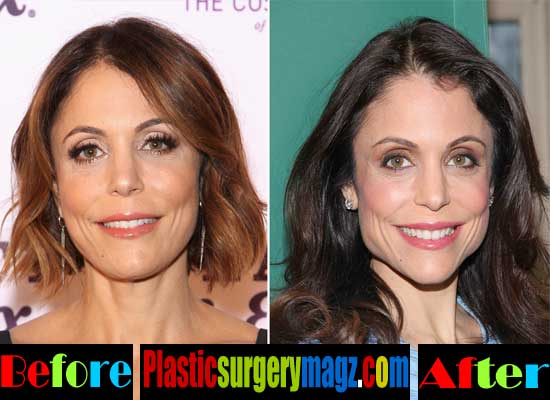 According to the reports published in DailyMail.com, the rumors of Bethenny Frankel plastic surgery began spreading three years ago when Bethenny's dermatologist suggested her to get Botox injection to relax the muscles in her jaw which look so tense as a result of grinding her teeth for years.
Through the exclusive interview Bethenny Frankel also ensures that she never underwent a breast augmentation surgery and nose job in the past. "I have not had invasive plastic surgery, I have not had a nose job,"  she said.

Regardless of whether she has really had some work done or not, a lot of viewers see that Bethenny Frankel face has indeed changed. They believe that the changes on her appearance are due to plastic surgery procedures. What about you? Do you believe she has been under knife to enhance her looks?