Plastic Surgery Cost: How Much Does It Cost To Get Plastic Surgery
|
It is not deniable anymore that your stunning appearance is priceless especially for celebrities. A beautiful appearance becomes one of the most important assets for them, so that they will do everything to always maintain their beauty even though they have to spend much money.
One of the shortcuts to enhance an appearance is through plastic surgery. There are many types or plastic surgery procedures which you may consider based on your needs.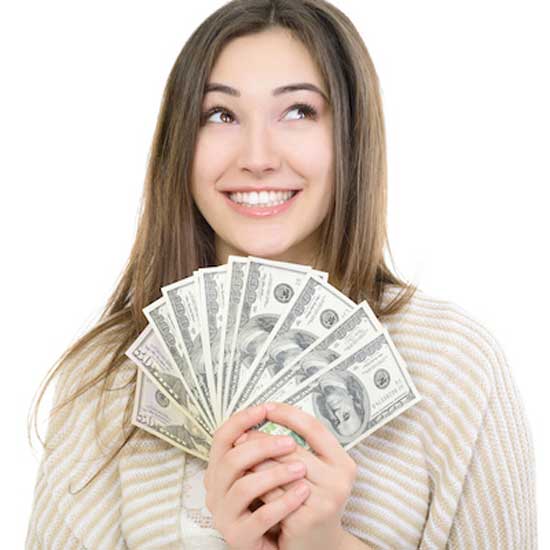 However, before deciding to get plastic surgery, you have to know everything dealing with the beauty surgery especially about the cost. By having enough information about plastic surgery price, you will not be deceived even though there are several uncertified surgeons near you offer plastic surgery cost with lower price.
How Much Does It Cost To Get Plastic Surgery?
Talking about plastic surgery cost is not easy job because it involves a lot of things like the complexity of surgery, plastic surgery procedures, surgeons, location and there are still many others. Below is a general overview of plastic surgery price based on procedures of cosmetic surgery which are most often taken.
Nose Plastic Surgery Cost: How Much Does Nose Plastic Surgery Cost?
According to American Society of Plastic Surgeons, the average nose plastic surgery cost is $4,694. This price is based on the statistics in 2014.
The average cost of rhinoplasty above can vary widely because it is not including anesthesia, clinic's facility or other related expenses. The cost of nose job usually includes anesthesia fees, surgery facility costs, medical tests, medicine and surgeon's fee.
One thing that you have to keep in mind before taking nose surgery is that you have to choose the right surgeon by considering their reputation and experience. You also have to feel comfortable with your chosen surgeon. Otherwise, you will regret in the future.

Does insurance cover rhinoplasty? Health insurance only covers nose job in which it is aimed to improve breathing function which is usually caused by an obstructed airway. The insurance company will usually ask to include a letter from your doctor in which it generally covers a detailed examination of your breathing impairment.
Face Plastic Surgery Cost: How Much Does Facial Plastic Surgery Cost?
Before digging information about face plastic surgery cost, you have to know first about facial plastic surgery procedures.
According to AAFPRS, there are various procedures of plastic surgery face. They are including blepharoplasty, facial scar removal, facelift, hair transplant, laser surgery, chin surgery, otoplasty, nose job, and wrinkle treatment.
The followings are the general costs of facial plastic surgery procedures. The price's data is taken from RealSelf.com.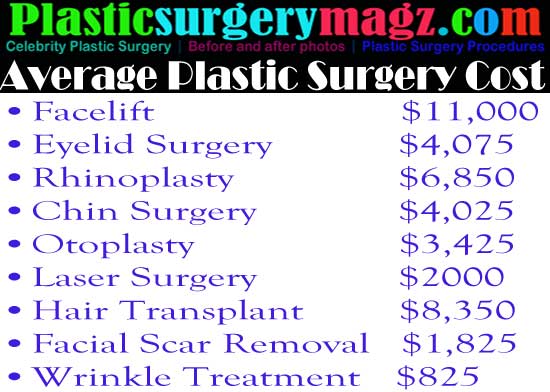 Breast Augmentation Cost: How Much Does Breast Augmentation Cost?
What is breast augmentation surgery? It is one of plastic surgery procedures in which it is performed to improve the breast size through inserting implants or silicone into the breast. The final result is hoped being able to make breast size look full and symmetrical to the body shape.
The surgical procedure above is usually taken by a mom who has just given birth to the child. But, it is also possible for those women who feel insecure with their small breast size.
According to the data statistics in 2014 of American Society of Plastic Surgeons, The average cost of breast implants is $3,708. But, it still can vary widely based on the location, complexity of surgery, and many others.
Like other plastic surgery procedures, breast augmentation cost usually includes anesthesia fees, surgical facility, pre-medical test, medicine and fee for the surgeon.
Does insurance cover breast implants? According to several sources, health insurance cannot cover breast augmentation cost though the procedure may relate to complications toward other surgical procedure.
Cost of Tummy Tuck: How Much Does a Tummy Tuck Cost?
A tummy tuck or technically called as abdominoplasty is the surgical procedure to remove the excess fat and skin around the abdomen. The final result is hoped to make the skin around the stomach can look smoother and firmer. The average cost of a tummy tuck is roughly $5,493. But, the cost can still change based on where you will take the surgery, surgical facility costs, and other related expenses.
You may wonder whether health insurance covers abdominoplasty or not. Like breast augmentation surgery, Health Insurance Company will not cover tummy tuck cost. But, do not worry because plastic surgeons usually offer many plans for this procedure financing. So, make sure you have asked about it to your surgeon.
Those plastic surgery costs above are general price which may be different from your notes. As mentioned above, plastic surgery price is based on many factors. Therefore, difference of location and surgeons may influence the cost. Hopefully, this information can give more options to you before deciding to get procedures of plastic surgery.
Conclusion, health and stunning appearance is wealth. With plastic surgery you can get what you have desired. For other cosmetic surgery procedures which are not discussed in this post will be peeled completely in the next post. So, stay tuned for the next review of plastic surgery price in this site.
Feel free to share this post and your comments if you find something interesting in it!